Hi there! I am really excited to announce a new Quilt Along that we are hosting here at Fort Worth Fabric Studio. If you haven't heard of a Quilt Along or have been hesitant to do one, this is your chance to try your hand at it!
Each week we will go through the process of making this quilt. Today we will start with the fabric requirements, and we will end with a fun little show and tell party!
I have had a lot of fun designing this quilt, and am really happy with how the final quilt turned out. It is such a fun, yet modern design. The design may look complex, but this quilt is made from one block and it is all pieced using basic piecing techniques.
Quilt size is approximately 48" x 64" Finished
I, personally have found that coordinating fabrics can be a difficult process when starting a quilt, but here at Fort Worth Fabric Studio--we have taken the work out of it for you. We have put together two delectable bundles in two different color schemes. All fabrics coordinate beautifully with each other and are from various different designers.
The first bundle,
Raspberry Crush
is a fruity blend of orange, raspberry and lemon. It includes 14 fat quarters and all of them are seriously delicious! :) This is the bundle I am using for my quilt, and the colors are so vibrant!
The second bundle,
Bejeweled
is a fun take on a jewel-tone color scheme! Deep navy and teal paired with some lovely deep purple and splashes of cerise. I am LOVING this color scheme! It is so rich and will really make a bold statement in your quilt!
Here is the same design but using the Bejeweled bundle:
Dates and Fabric Requirements:
March 27: Block Construction
April 10: Top Assembly
April 17: Basting
April 24: Quilting
May 1: Binding
May 15: Show and Tell
Fabric Requirements:
The fabric requirements will mostly be the same for each color scheme. The background fabrics, and backing fabrics are the same. However, the binding will be a different color for each color scheme.
Here is the
Bejeweled bundle
with the coordinating fabrics.
The bundle and coordinating fabrics are sold separately.
Here is the
Raspberry Crush bundle
with coordinating fabrics.
The bundle and coordinating fabrics are sold separately.
Here is a little sneak peek of how my quilt turned out! I will do the full reveal at the show and tell in May! :)
I would love for you to join in on the quilt along!
If you are joining in, here is a little button if you'd like to put it up on your blog!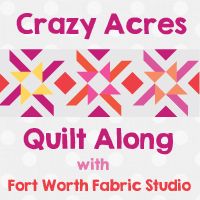 If you have any questions about the requirements, dates or anything else--please feel free to leave a comment and I will email you back or you can email me directly at lindsey@fortworthfabricstudio.com
Talk to you soon,
Linking up: